In 2020 the famous
organ in Nantes Cathedral
(France) was
destroyed by fire.
The 74-stop instrument, originally by Girardet (1719), completely rebuilt by Clicquot (1784) and increased in the 19th century by Merklin-Schuetze, told of the great French Romantic school of organ building. 
Let's get together and help recover such a historic and multi-layered cultural heritage.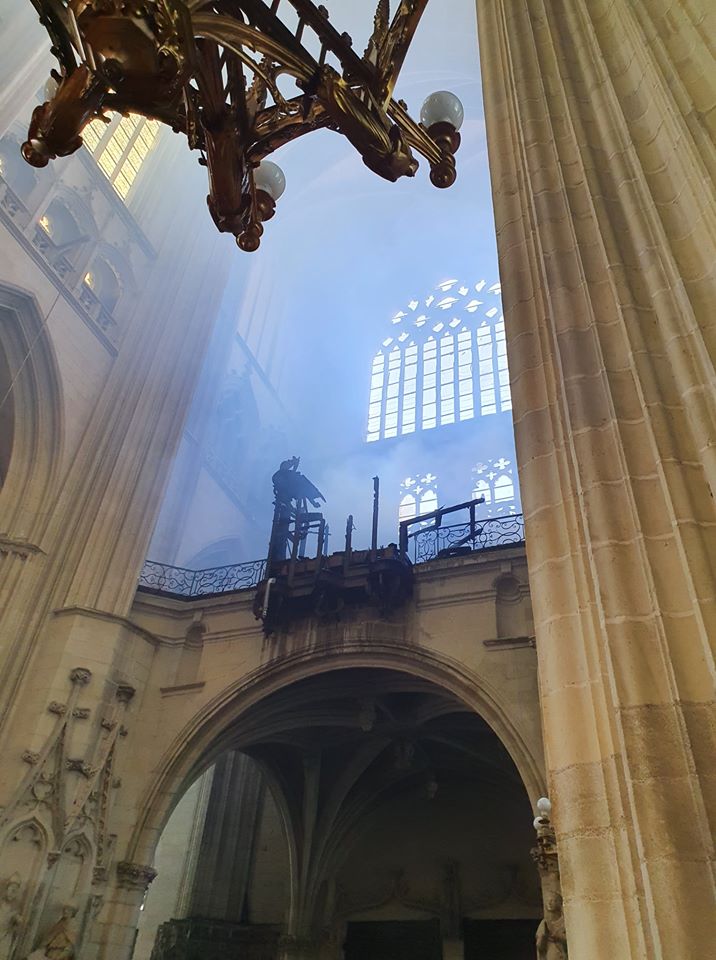 Following the European Organ Festival 2021, Music Director Björn O. Wiede has called on colleagues across Europe to get involved in the recovery of the organ with a Concert for Nantes.
As stated in the call: "Promote the fact that the European cultural world is called upon to get involved together. I think that with briefing and engagement we can promote the idea of reconstructing the organ of Nantes. Together we might be able to contribute to the involvement of institutions and people who have the skills and resources to complete such a work."
Further: "Organ craftsmanship and organ music have been included in the UNESCO list of the Intangible Cultural Heritage of Humanity. This is why we want to start with the central event
'Concert for Nantes'
on June 5th, the
Unesco World Heritage Day
in Germany in remembrance of 50 years World Heritage Convention."
Sunday, June 5th 2022 UNESCO World Heritage Day
Nikolaikirche Potsdam, Germany 
CONCERT FOR NANTES
3pm – 6pm
Digital show: Pipe organs and artists / Orgeln und Künstler
5 pm
Explanations about the organs / Orgelführung
6 pm
Concert at two organs / Konzert an zwei Orgeln
Michel Bourcier (Cathedrale Nantes/Frankreich)
Björn O. Wiede (Nikolaikirche Potsdam)
Franz Liszt (1811-1886) Funérailles (Transcription: Louis Robillard), Consolation V 
César Franck (1822-1890) Prière, extraite des Six Pièces
Franz Liszt Consolation IV 
Jean-Louis Florentz (1947-2004) Laudes (Kidân Za-Nageh), Sept pièces pour orgue op. 5 (extraits)
Antonín Dvořák (1841-1904) Symphonie IX (Transcription: Michel Bourcier) III. Molto vivace
Franz Liszt Consolation VI 
Johann Sebastian Bach (1685-1750) Sonate G-Dur
Franz Liszt Poem "Orpheus"
Improvisationen dans le style de Widor et Boellmann
César Franck Final op. 21
Sunday, June 5th 2022 UNESCO World Heritage Day
5pm – Antica chiesa a lago, Blevio (Como), Italy
Concerto – Prof. Alessandro Bianchi
Antonio  Valente (1520-1580) Lo  Ballo dell'Intorcia
Girolamo  Frescobaldi (1583-1643) dal  2°  Libro di Toccate"
Bernardo
Pasquini
(
1637-1710) 
Introduzione
e
Pastorale
Domenico  Zipoli (1688-1726) 4  Versi  e  Canzona  in sol minore
Alessandro  Scarlatti (1660-1725) Toccata  XI
Giovanni  Ridolfi (secolo  XVIII) Concerto  per  organo  senza  strumenti
Giuseppe  Gherardeschi (1759-1815) Cantabile per il Traverso solo con il Clarone nei bassi / 
Rondò I
Gaetano  Valerj (1760-1822) Gran  Sinfonia coll'andantino pastorale
On the historic Prestinari organ (1821): Prof. Alessandro Bianchi
9pm – Cremnago die Inverigo, Italy
Concerto – Prof. Alessandro Bianchi
Costante  Adolfo Bossi (1876-1953) Entrata
Johann  Pachelbel (1653-1706) Preludio, fuga e Ciaccona in re minore
Giovanni  Ridolfi (secolo  XVIII) Concerto per organo senza strumenti allegro, andantino, presto
Ramon  Noble (1925-1999) Toccatina
Marco  Enrico  Bossi (1861-1925) Ave  Maria  op. 104  N° 2
Carson  Cooman (1982) Cortège, Intermezzo and  Litany on the Joseph Hymn
Jan  Zwart (1877-1937) Toccata  sul  Salmo   146
Louis J.A. Lèfebure-Wély (1817-1869) Bolero  de  Concert   op. 166 / Sortie
St. Ingbert, Saarland, Germany
Christian von Blohn
Program and time TBA
Lagny, France
Concert
Orgelklasse Prof. Jean-Baptiste Robin
Tuesday, June 7th and 14th 2022
Gdánsk, Poland
Roman Perucki
Program and time TBA
Thursday, June 23rd 2022
8pm – Bonner Münster, Bonn, Germany
Benefizkonzert
On the Klais organ: Andie Ruster, Christoph Sötsch, John Weinert (Orgelklasse Markus Karas)
June 2022, Date TBA 
Program and time TBA
July, Monday 11th 2022
Basel, Switzerland
Ekaterina Kofanova
Program and time TBA
Don't hesitate to call or write your questions and ideas.